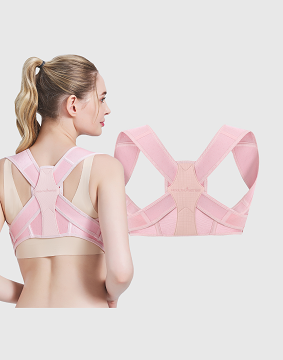 Posture Corrector For Women | Back Pain Relief Products with Premium Back Support Belt | Soft Spandex Neoprene Material - PC-850
Out Of Stock
YS-PC850-Small/Medium
SHOULDER-WRAP DESIGN: Designed to develop muscle memory & regain proper posture. Wearing this posture corrector provides alignment when standing, sitting, lying down or other daily activities.

ADJUSTABLE & COMFORTABLE: Features soft breathable latex free washable straps & adjustable loop closures. Easy Wear – Start for 30 minutes per day, then work your way up to 1-2 hours of daily wear for 28 days for best results.

WEAR UNDER YOUR CLOTHES: Unlike other bulky belts, this lightweight posture corrector is designed to be discreetly worn under your clothes or on top of them. It features smooth lines without the bulk. Wear it under your shirt or blouse while at home, at work, or out with friends

MADE FOR INDIA: This product is idealised & conceptualised for we Indians & manufactured by exclusive overseas partners. A Registered Indian Brand aiming to bring quality innovative products .