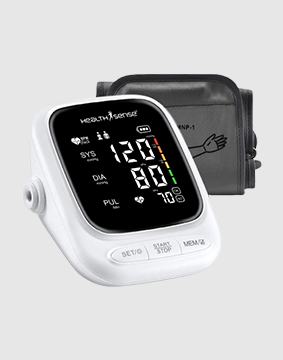 Heart-Mate BP144 Blood Pressure Monitor
Rs. 1,799.00
Rs. 3,000.00
HealthSense Heart-Mate BP144 Upper Arm Automatic Digital Talking Blood Pressure Monitor, Heart Rate Machine & Pulse Checking meter for Accurate Home Monitoring with 1 Year Warranty, Batteries Included
TALKING FUNCTION: Broadcasts basic instructions, BP readings with WHO BP level compliance & Pulse in English. Choose to switch the function ON/OFF.
RELIABLE DISPLAY: Large self-lit LED display & Acrylic screen with oversized, easy to read fonts, even in darkness, with a colourful WHO indicator. Intelligent pressure sensing technology for precise measurements.
2 POWER MODES: Choose between batteries (included) or type-C USB (not included) of mobile charger, power bank or laptop to power your monitor. Auto-off function after 60 sec enables power saving.
MADE FOR INDIA: HealthSense is a registered Indian Brand aiming to bring quality innovative products. This product is idealised & conceptualised for Indians & manufactured by exclusive overseas partners.
SERVICE & WARRANTY: 1 year HealthSense India offsite service warranty on manufacturing defects, ensures on time customer support. For any support, mail us at: support@healthsense.in.
Click to Download