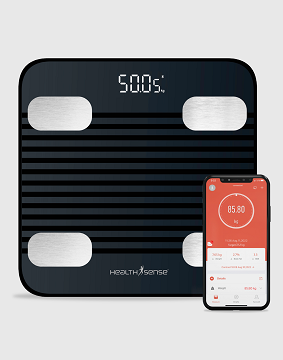 Fitdays BS 171 Smart Bluetooth Body Weighing Scale
Rs. 1,699.00
Rs. 3,000.00
HealthSense Fitdays BS 171 Smart Bluetooth Body Weighing Scale | Digital Fitness Weight Machine with Mobile App, BMI and Fat Analysis with 13 compositions | Batteries and One Year Warranty Included
FULL BODY ANALYSIS: 13 essential body composition readings, calculated with advanced BIA Technology displayed on Fitdays App. Built with 4 precision sensors & 4 high sensitive electrodes for accuracy.
MADE FOR INDIA: HealthSense is registered Indian Brand aiming to bring quality innovative products. This product is idealised & conceptualised for Indians & manufactured by exclusive overseas partners.
INTEGRATED SMART APP: Multifunctional & user-friendly Fitdays app allows easy set up on Android & Apple devices. Pairs & syncs to popular fitness apps, so you can track periodical progress & set goals.
ONE SCALE FOR WHOLE FAMILY: The strong built scale, allows creation of 24 different users to seamless track fitness of complete family including babies through the app & also keep data isolated.
SERVICE & WARRANTY: 1 year HealthSense India offsite service warranty on manufacturing defects ensures on time customer support. For any support, mail us at: support@healthsense.in.
Click to Download