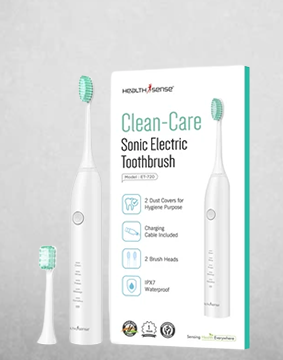 Clean-Care ET 720 Rechargeable Sonic Electric Toothbrush
Rs. 1,099.00
Rs. 2,300.00
In stock
CLEANCARE-ET720-SONIC
HealthSense Clean-Care ET 720 Rechargeable Sonic Electric Toothbrush with Extra Head & Dust Cover | IPX7 Waterproof & 5 Dynamic Cleaning Modes | One Year Warranty Included
RECHARGEABLE & LONG-LASTING: One complete charge of 10-12hours lasts for 100 minutes, with a 2 minute brushing timer. USB cable included for effortless charging, along with 2 brush heads for long term & multiple usage.
MADE FOR INDIA: HealthSense is a registered Indian Brand aiming to bring quality innovative products. This product is idealised & conceptualised for Indians & manufactured by exclusive overseas partners.
SONIC CLEANING TECHNOLOGY: High speed vibrating brush heads with 5 dynamic modes, for complete oral care. Precisely Waved DuPont nylon bristles suit tooth topography for thorough & deep cleaning.
SLEEK & LIGHTWEIGHT: Designed for home & travel, the heads are waterproof & convenient with dust covers for hygiene. Indicator lights for charging & cleaning mode selection.
 SERVICE & WARRANTY: 1 year HealthSense India offsite service warranty on manufacturing defects ensures on time customer support. For any support, mail us at: support@healthsense.in.
Click to Download