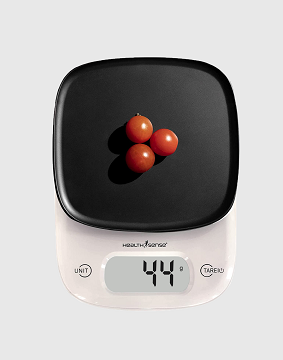 Chef-Mate KS 63 Digital Kitchen Weighing Scale
HealthSense Chef-Mate KS 63 Digital Kitchen Weighing Scale & Food Weight Machine for Health, Fitness, Home Baking & Cooking, 1 Year Warranty & Battery Included
PRECISE MEASUREMENTS: Built with high precision sensors to quickly deliver accurate results & ensure your healthy recipe is deliciously perfect. Measures in grams/ml(water)/ ml(milk)/lb:oz/fl oz with range 1g-5000g
EASY TARE FUNCTION: Calculate net weight of ingred.ients by subtracting empty bowl or container weight. Press TARE button to reset scale to zero & weigh while adding ingredients to same container.
BATTERY INCLUDED: The scale comes handy with 2 ready to use AAA batteries which gives long battery life of more than 6 months when used twice a day. Features Low battery & Error Indicators.
ADDED FEATURES: Clear LCD display screen with large fonts & Auto-Off feature to facilitate power saving. Two separate buttons for unit conversion and On/Off/Tare function.
SERVICE & WARRANTY: 1 year HealthSense offsite service warranty on manufacturing defects ensures on time customer support.
Click to Download