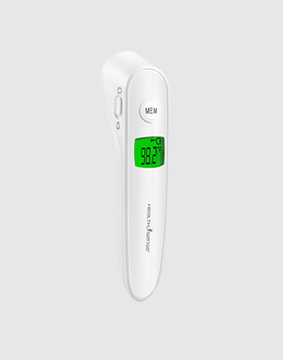 Accu-Scan LFR30B Forehead Infrared Thermometer
Rs. 1,799.00
Rs. 2,200.00
HealthSense Accu-Scan Forehead Infrared Thermometer
Are you prepared when fever hits your family. Accu-Scan Forehead and Ear Thermometer is your perfect companion in times of need for you and your family. Whether your toddler or an elderly member, Accu-Scan suits all age groups. Especially convenient for measuring temperature of your toddler, even at nights without disturbance, with its backlit display and volume mute options. Measuring your room or object temperature is now on your fingertips as Accu-Scan is designed for multiple measurement modes, namely, Ear, Forehead, Object and Room Temperature. Being clinically tested and FDA approved along with technically advanced smart chip engineering makes it the safest device for babies and aged people, instant reading, 35 stored memories, unit conversion and 1 year warranty, are the other major reasons to choose Accu-Scan as your health partner.
TECHNOLOGY: Designed ergonomic and engineered with latest infrared technology smart chips for optimized calibration, probe sensors are highly accurate in delivering instant readings within 1 second.
MULTI-MODE MEASUREMENT: Built with multiple temperature detection modes, not only supports ear and forehead function, but also measures temperature of any given object, liquid or room. 
SUITS ALL AGES: Universally made to measure temperature for ALL. Special feature for babies as reading can be taken without disturbing them.
SAFE AND RISK FREE: Efficient companion for each member of family. The mute mode allows you to check temperature of toddlers without disturbance. Safest device for usage as it is FDA approved.
INDICATORS: The thermometer indicates temperature in colours (green, orange & red) apart from displaying the reading on lcd screen with backlight, easily toggle between °c & °f.
SERVICE & WARRANTY: 1 year HealthSense India warranty on manufacturing defects to ensure quality customer support.
Click to Download