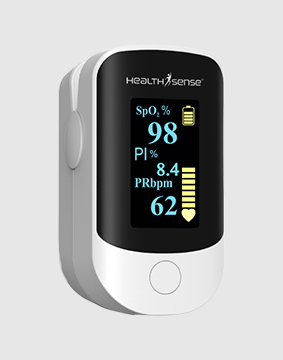 Accu-Beat FP 910 Fingertip Pulse Oximeter
Rs. 1,499.00
Rs. 3,000.00
HYPOALLERGENIC: The medical grade silicone finger chamber is allergen & latex free to avoid microbial reactions while measuring. It is universal and adapts to any finger size.
MADE FOR INDIA: HealthSense is a registered Indian Brand aiming to bring quality innovative products. This product is idealised & conceptualised for we Indians & manufactured by our exclusive overseas partners.
FAST READING & SMART DISPLAY: Two coloured, four direction OLED screen with Optical Detection Technology accurately measures & displays SpO2, Pulse Rate, Perfusion Index & Plethysmograph within 8 sec.
ONE BUTTON OPERATES ALL: Hassle free single button operation controls device for measuring & setting alarm & sound features. Auto Sleep Mode after 8 seconds of inactivity to save on batteries.
SERVICE & WARRANTY: 1 year HealthSense India offsite service warranty on manufacturing defects ensures on time customer support. For any support, mail us at: support@healthsense.in.
Click to Download