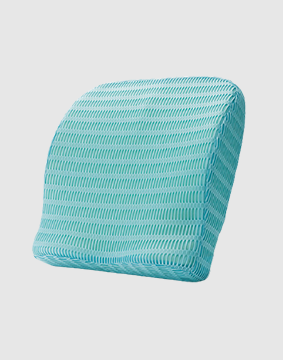 Soft-Spot BC 21 Orthopedic Backrest Cushion
Rs. 1,799.00
Rs. 1,999.00
HealthSense Soft-Spot BC 21 Orthopedic Backrest Cushion with Memory Foam for Study, Home, Office chair & Sofa with Lumbar Support for Back Pain Relief (Ice Blue)
RELIEF WHILE & AFTER SITTING: The cushion gently aligns the spine to the correct, pressure relieving position to provide comfort & alleviate pain from lower & mid lumbar area while reducing stress & fatigue
STURDY MEMORY FOAM: Built with high density memory foam helping in retaining its shape irrespective of usage duration. This makes it more durable & long lasting while providing the perfect support.
MULTIPURPOSE: Make any seating comfortable with lumbar support as the cushion can be used in most sitting places like office & study chairs, sofa, recliners, couch, car seats, wheelchairs etc.
BREATHABLE & HYGIENIC: 3D ventilated mesh cover keeps air circulating & prevents heat accumulation, while being removable & washable with zipper. Adjustable elastic strap fits most seating & helps keep cushion in place.
UNIVERSAL DESIGN: Ergonomically designed with wider coverage to suit all ages & types – children, adults, elderly, pregnant women, hence being an ideal gifting option.